CLEANING INDUSTRY
Brill is the ideal product for the cleaning industry as it is versatile and can be used in so many settings be it households or commercial cleans; general cleans or specialist jobs.
Versatility
It takes care of;
kitchens
bathrooms
conservatories
windows
office spaces
upholstery
carpets
flooring
workshops
garages
deckings
block paving and more...
It dilutes to job so can either be used as a general multi purpose cleaner (5 parts water, 1 part cleaner) or altered stronger for the toughest of grease jobs such as filters or grease traps or diluted very weak to work as an excellent window and glass cleaner. The product itself comes with recommendations so you can rest assured you'll be able to find how to dilute it for your job. To see dilution recommendations, please click here.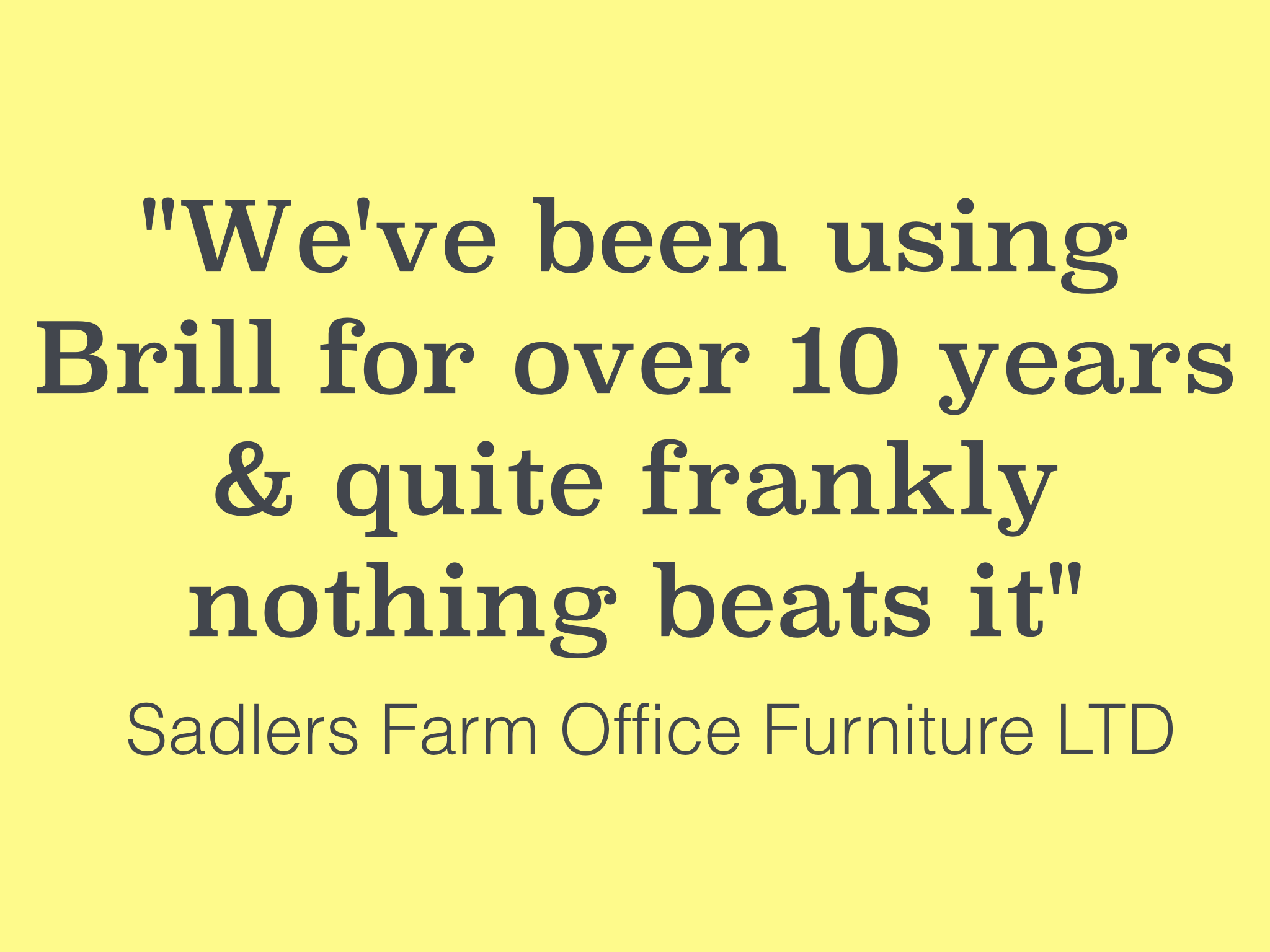 Ingredients
Brill Cleaner is bleach, acid, ammonia and silicone free. It is also 100% biodegradable. This means Brill Cleaner won't cause damage to surfaces or remove dyes from flooring, carpets or anything it may be used on. It also won't leave any harmful residues on you, surfaces or the environment! Brill is a soap based degreaser that will only take care of ground in dirt, grime, oil, sauces, whatever it may be and as it is silicone free it won't leave a slippery film which is extremely important in terms of flooring.
PRICING STRUCTURE
1 x 5Ltr £29.95
2 x 5Ltr + 1 free £59.90
3 x 5Ltr + 2 free £89.85
4 x 5Ltr + 3 free £119.80
6 x 5Ltr + 6 free £179.70
Please call to order; 07544255891
Flooring; Hardwood, Stone & more..
Brill can be used on all types of flooring;
ceramic or porcelain tiles
floating wood tiles
carpet and carpet tiles
hardwood, engineered or composite wood
bamboo
cork
stone
vinyl
decking
outdoor block paving
The beauty of Brill is it will dilute to job and take on all materials to remove dirt. Brill will also act as a stain remover and will cut through the most tricky ground in stains such as coffee, oil and blood.
Brill is most effective when sprayed onto a surface, then agitated with a brush but can also be used in a vacuum or mopped. Brill Cleaner won't leave a slippery finish or film unlike some other cleaners as it is silicone free. With injuries due to slipping or tripping a major issue for UK Businesses Brill is not only cost effective but safe in the workplace, commercial areas and the home.
Carpets
Brill Cleaner excels on carpets (and upholstery) to remove ground in dirt, grime, grease and dust. Brill will even take on tough dried in stains without taking away the colour as it is bleach free. It can be used for small areas or in a carpet washer for larger jobs, great for removing stubborn dirt such as motor oil, jam, sauces and blood. Simple to use; dilute to job, spray, agitate with a brush and wipe away.
Brill comes with Dilution recommendations for most common clean jobs, please contact us if you require any advice on jobs not listed below
(Dilutions start with the water element so 5 to 1 would be 5 parts water to 1 part cleaner - in a 500ml spray bottle this would equate to 83ml brill AND 417ml water)
JustAddWater
Air Conditioners 10 to 1
Alloy wheels 10 to 1
Auto engine 1 to 1
Boats dilute to job
Carpet 7 to 1
Chrome 20 to 1
Cloth furniture 10 to 1
Counters 10 to 1
Driveways 8 to 1
Fibreglass 10 to 1
Flooring 7 to 1
Grease 2 to 1
Grills 5 to 1
Heelmarks 5 to 1
Hoods 5 to 1
Leather 10 to 1
Oil 5 to 1
Paint oxidation 5 to 1
Patio furniture 20 to 1
Rush matting 7 to 1
Smoke films 10 to 1
Stainless steel 20 to 1
Steam cleaning 50 to 1
Tools 10 to 1
Venetian blinds 20 to 1
Vinyl 10 to 1
Walls 20 to 1
Wax stripping 5 to 1
Whitewalls 2 to 1
Window cleaner 120 to 1